Family Classes at Capoeira Oregon


What is the value to you of participating in a fun, exhilarating, and even slightly dangerous activity with the whole family and have everyone leave class fully engaged and adrenalized?  Capoeira can give you that experience whether it be you and one child or a family of six.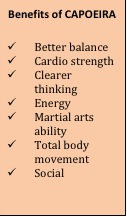 Training a sport like capoeira with your kids can enhance the bond between you as you can share stories from class, laugh at each other's mistakes, help remember movements when you're at home together, or supporting each other as you work through challenges and make advancements.  We also find that children who train in family environments become very comfortable dealing with adults and can handle many adult challenges equal to their parents.
At Capoeira Oregon we allow kids to train at regular beginners classes when accompanied by at least one parent or older sibling. Building a common and engaging activity with your kids helps strengthen your relations.  Come discover capoeira today and bring the whole family!