Batizado IV – March 10, 2018
Batizado III was a great success for our group.  We're just weeks away from our next Batizado event in early March 2018, Batizado IV.  A Batizado (Portuguese for Baptism) is the celebration of the accomplishments of capoeira students.  The event includes live demonstrations of capoeira and the Trocas de Cordas where students are awarded higher ranks based upon their accomplishments.  The event starts at 03:00 PM on Saturday afternoon, March 10, 2018.  Interested in capoeira?  Come and watch the event and get to know our group. Space is limited so please send us your contact information below and let us know who will be attending.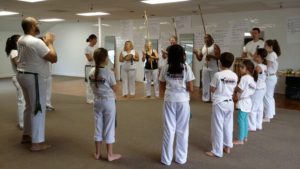 Special guests for Batizado IV include Mestrando Mago and Monitora Coelho from our affiliate school in Colorado Springs.  Very limited space is available for Friday night (March 9) and Saturday morning (March 10) workshops.  Please contact us for pricing and availability if you are interested.
www.bodyofbrazil.com