Beginners' Capoeira Workshop for Women – Sept 24, 2018
Join us on Monday evening, September 24, 2018, from 07:00 pm to 08:30 pm for an introduction to the great sport and fitness regime of Brazilian Capoeira.  This workshop is for women ages 9 and over who have never tried capoeira but would like to get to know this unique for of exercise.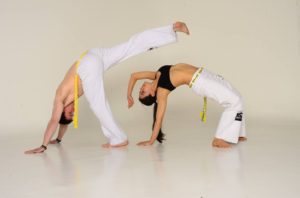 Brazilian capoeira combines martial arts kicks and escapes with elements of dance, gymnastics, and flexible movements which is guaranteed to activate dormant and not-often-enough used muscles, especially lower body.  Capoeira can be done at all physical levels whether you are an avid trainer or someone looking to get back to fitness.
Come check us out on September 24.  Please register using the form below and/or ask questions.  There is a small $10.00 fee for this event.
www.bodyofbrazil.com