Capoeira for Beginners – March 17, 2018
Interested in learning a great martial art?  Saturday afternoon, March 17, 2018 beginning at 12:00 noon,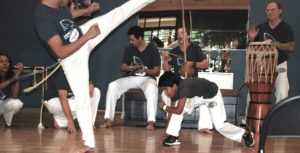 join us and get to know Brazilian capoeira.  During this workshop you will learn some basic movements and footwork that are fundamental to capoeira and you will also learn basic kicks and dodges.  When was the last time you did a cartwheel?
This is a free event for those who confirm with a pre-registration.  Without a confirmed registration there will be a $10.00 door fee.
Who:  You, and Capoeira Oregon
What:  Learn the Basics of Capoeira
When:  Saturday @ 12:00 noon to 1:30 PM, March 17, 2018
Where:  9955 SW Beaverton Hillsdale Hwy  #230, Beaverton, OR  97005
Why:  Because you'll have a great time, get a work out, and learn about Brazilian Capoeira
www.bodyofbrazil.com