Kids Capoeira – Level I: Starts Sept 18, 2017
Capoeira Kids – Level I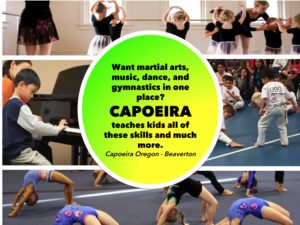 Are your kids just getting started in sports and other activities outside the school/home life?  Our Level I Capoeira classes are beginning this September 15, 2017 beginning.  These classes are for kids not quite ready for a rigorous training classes but where they still learn many of the cool and exciting things in capoeira.  Typically these kids are 5 years up through 8 years.  For kids ready for a greater challenge, we'll enroll them in our Level II program.
Your alternative to capoeira?  Shuttling your kids to dance schools, music lessons, martial arts classes, and athletic meets.  Brazilian Capoeira combines these skills in one sport.  Simplify your life by enrolling your kids in a capoeira school where they will learn new musical instruments and train a martial art the develops rhythm, coordination and social skills.
Call today at 503.608.7772 for more information about our program or click here to GET STARTED and check out our trial 4-class pass for $25.00.