Kids CAPOEIRA Camp Aug 6 – Aug 10, 2018
Capoeira CAMPS for Kids – Summer 2018
June -or- August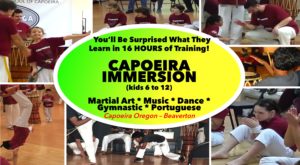 Each Capoeira workshop set is designed to give your kids ages 7 thru 13 a great sample of the many facets of capoeira, a chance to meet and train capoeira with other kids, and a lot of things they can take home and practice every night. During each session your kids will learn the fundamental movements of capoeira, practice safe but challenging acrobatic movements, learn to play musical instruments, and even speak some Portuguese. In total each student gets about 15 hours of classroom training at beginners level capoeira. You'll be surprised what they learn in such a short period of time. These sessions are not cumulative so the later sessions are not dependent upon completion of the first. Class sizes are limited to 10.
August 2018 Sessions will be:  August 06 to August 10 ... each day 09:00 AM to 12:00 noon
Please contact us for pricing and other details about our program.
www.bodyofbrazil.com