Valentine's Day Special
Valentine's Day Special
Capoeira Oregon is pleased to announce a special promotion for couples interested in training capoeira together.  From now until February 15, 2018, you and your significant other can sign to train capoeira at a special rate.  That rate is $110.00 per month for the couple, for up to two months.  So you could train from February 16, 2018 until April 15, 2018, for a total of $220.00.  What a deal!! That's just $55.00 per person per month.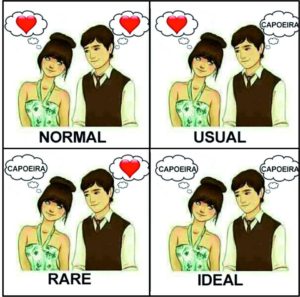 Terms & Conditions
This capoeira training is for our fundamental capoeira training only.  The training period must begin on February 16, 2018 and ends April 15, 2018.  Students wishing to continue after April 15, 2018 would enroll at our regular monthly rates.  This offer does not include any fees for special events that we hold at our school nor does it include capoeira clothing.  No substitutions allowed, the partner you start with is the partner you are enrolled with for the duration of the 2 month period.  The promo code is CAPOEIRAISFORLOVERS.  You must enroll by coming into our studio before February 15, 2018 and your first month will be due at the time of enrollment.  This special offer cannot be combined with any other offers or promotions offered by our school.
Please contact us with the form below for any questions.
www.bodyofbrazil.com