Join Us At Capoeira Oregon For Morning Classes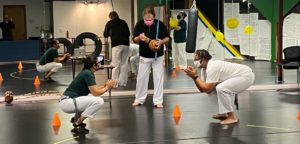 Maintaining fitness in the middle of a  "restricted" lifestyle is a challenge.  Your decisions about fitness must be smart and able to accommodate future uncertainty.
We are looking to expand our schedule and offer early bird classes two times per week.  These classes will meet at 06:15 am for one hour and will be available at the studio and on-line.  We are seeking at least 5 new students to initiate these classes and we hope to begin classes sometime in early November.
Click the GET STARTED button to contact us for pricing options and our regularly schedule evening classes.