Join Us At Capoeira Oregon For Beginner-level Classes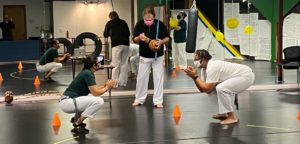 Maintaining your fitness is always a challenge.  When considering whether to join a gym, buy equipment, or join organized exercise/fitness activities, you must consider your fitness goals and how you can maximize your return on your fitness investment.
Beginning level capoeira focuses on building core strength, developing balance and coordination, and introducing the power of capoeira as a martial art.  Our capoeira classes are a well-rounded curriculum of movement, exercise and drills that not only improve our bodies but greatly sharpens are minds.  The benefits of beginning level capoeira are much more than just improving your physical appearance but benefits include building a foundation for learning self defense skills. 
In October 2021 we begin an all beginners schedule of classes.  This is a unique opportunity in that everyone will be new to capoeira except instructors, of course.  Please use the Get Started button to contact us for schedule details and pricing options.