Capoeira is More Than Just An Exercise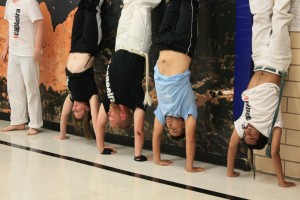 Do you want more return from your investment in fitness? Add, replace, or edit your current fitness plan to include Brazilian capoeira, the martial art that combines dance-like movement, kicking, acrobatics, and music. Your dollars and time are valuable, expect more and get more from your fitness plan.
In our fundamental program you can train up to 6 times per week.  Advanced level students have 3 classes per week focused on advancing to higher levels of capoeira.  Instructions are designed to progress students into and through complex movements and patterns, so no matter what your level you can begin learning within your abilities.  For more information click the GET STARTED button and leave us your contact information.
Please note that any minors must be accompanied by legal guardians or prior arrangements can be made if this is not possible. We're here to answer your questions.